70's - Beginnings
Elisa has always been passionate about fashion , decoration and art. From a very young age, she traveled around Europe looking for the most avant-garde brands that could not yet be found in Spain, so she decided to open her first multi-brand store in San Agustín de Guadalix, near her residence on the outskirts of Madrid. A risky location but one that allowed her to combine her work with taking care of her children.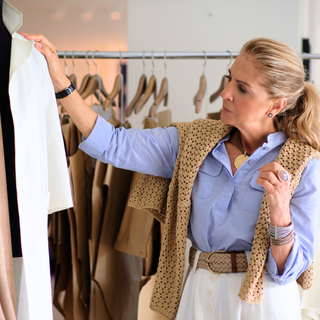 80's - Experience
It will not take long to attract clients from all over Spain interested in the collections of the great designers of the time (Armani, Valentino, Ungaro, etc...), but above all in Elisa's advice . In these years, she develops her innate ability to combine garments and highlight the beauty and personality of each of her clients.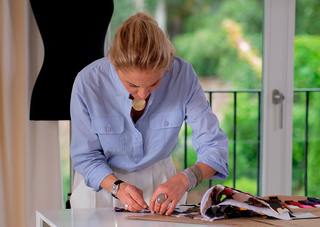 90's - Inspiration
With some pieces of cloth and a dressmaker, she begins to design her first garments . This is how his own style was born, a way of understanding fashion, a differentiating pattern and creations so in demand that they would soon surpass those of other brands in his own store.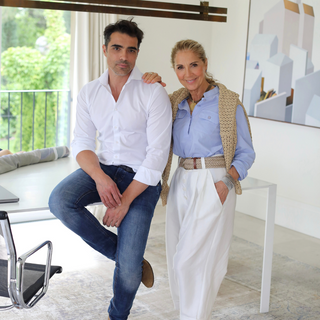 2002 - Unión
His son Eduardo joined the project. With great enthusiasm and few pretensions, they create a first collection that they present at the Madrid fashion fair. The reality would far exceed their expectations and in just one year they were present in the best multi-brand stores in Spain.
Thus began a few years of a lot of work and learning: the search for quality Spanish artisans and workshops , fabric research, distribution to points of sale, exhibitions, fashion fairs, Paris, London, Milan,...


2007 - Reference
They launch their first men's collection , resulting in a resounding success. " Elisa & Eduardo Rivera " established itself as a benchmark in the world of fashion: more than 300 stores sold their designs throughout Europe.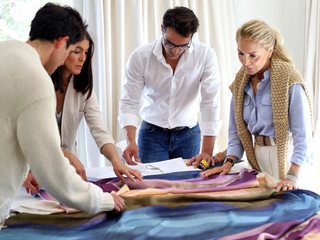 2008 - Closeness
The economic crisis begins, especially affecting multi-brand stores. Consumer demands change. The talent of mother and son and their complicity led them to take a turn in the business strategy: to speed up production times they decided to open their first store in the center of Madrid. They begin to design and produce in the short term, offering news weekly without neglecting quality and attention to detail.
The sales levels were so good that in 6 months they decided to leave the wholesale sale, much to the regret of their dear customers, to concentrate on the expansion of their own stores " Elisa & Eduardo Rivera "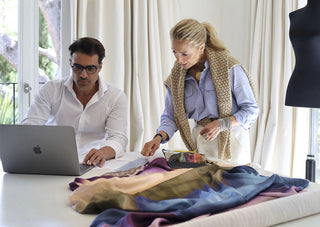 2018 - Digitization
Over a slow fire , 13 own stores are being opened and consolidated in "prime" locations in Madrid, Bilbao, San Sebastián and Barcelona, ​​as well as an e-commerce that serves national and international clients.
This orderly growth has been led by a team of more than 70 professionals who breathe and transmit the values ​​of its founders, also sharing them with the 20 artisan workshops in Madrid and Toledo that work exclusively for the brand. The creative universe is much broader, designing their own collections of accessories (bags, shoes, scarves, necklaces...) and bringing together in a single brand everything their clients may need.


2023 - Rebranding
With extensive knowledge of the business, a solid structure and a great human team, " Elisa & Eduardo Rivera " feel that they have much more to offer their clients and all women of any generation who seek to feel comfortable and special with "their second skin ".
With all the accumulated experience, and following their maxim of perfection in detail, they decide to "make themselves handsome" and launch a new image ; "Elisa & Eduardo Rivera" is renamed "rivera" unifying all its stores and collections under a single word that keeps the essence and values ​​of a whole story.
Rivera's new symbol, with its two intertwined "E's", forms an hourglass where we find the perfect balance between past and future, tradition and innovation, conveying a fashion that transcends time and enchants women of all ages.